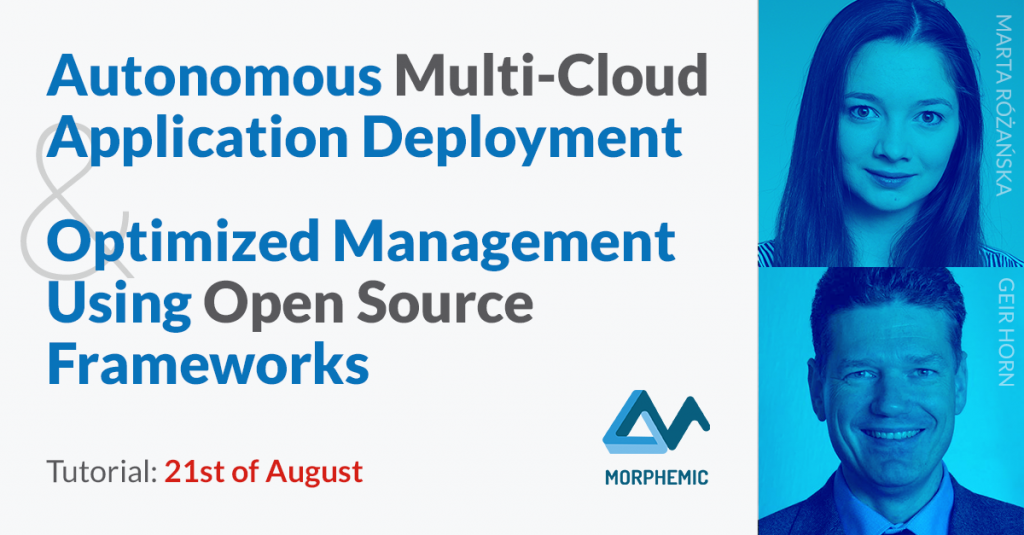 ACSOS is a brand new event of ieee.org – one of the tech industry leaders. Their numerous conferences focus crowds of experts and practitioners.
The entire 1st edition of ACSOS will be held online.
MORPHEMIC together with MELODIC will co-create a content of this conference by running a tutorial:
–> 21st of August: "Autonomous Multi-Cloud Application Deployment and Optimized Management Using Open Source Frameworks" by Marta Różańska and Geir Horn, both from University of Oslo.
Participants of this tutorial will have an occasion to deepen their knowledge of multicloud, also through hands-on exercises.
https://2020.acsos.org/track/acsos-2020-workshops–and-tutorials#program
Register today and feel welcome!

---

Agenda:

Session I 10-12:30 EST
Introduction to Multi-Clouds and Modelling Cloud Applications
Welcome, Agenda
Introduction to Multi-Cloud optimization, MAPE-K loop applied in Cloud optimization
Survey of the latest research and the existing tools
Step by step modeling Cloud application and designing utility function for Cloud application

Session II 13:30-16:00 EST
Multi-Cloud Deployment, Monitoring, and Adaptations
Overview of MELODIC Multi Cloud Management Platform and extensions in MORPHEMIC
Hands-On: Installing MELODIC platform; materials
Hands-On: Autonomous Optimization in the Cloud; materials
Existing Research Challenges and Summary