MORPHEMIC: Proactive Cloud
Want to optimize your cloud application?
Get the most advanced multicloud optimization platform!
Request Demo
Cloud computing optimization platform
MORPHEMIC is a unique way of adapting and optimizing Cloud computing applications. The project is an extension of MELODIC which is a multi-cloud platform developed in the H2020 project. MELODIC is the simplest and easiest way to use Cross-Cloud.
Now this open source platform is extended to MORPHEMIC with 2 main innovative pillars:
12 partners from 7 countries are developing the innovative MORPHEMIC for future specialized hardware configurations like GPUs, TPUs, AI chips, FPGA, HPC.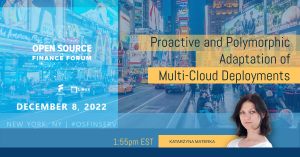 Katarzyna Materka, 7bulls.com, is among the speakers at Open Source in Finance Forum New York. The conference organized by The Linux Foundation & FINOS, is the only conference dedicated to...
Read More
Stay in touch - follow us on:

This project has received funding from the European Union's Horizon 2020 Research and Innovation program under grant agreement No. 871643.